Hard X Music artist: E-Rayzor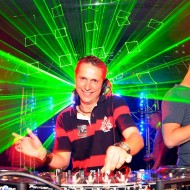 About artist
Country:
Germany;
Labels:
Hard Kryptic Records;
Styles:
Hardcore / Gabber

;

E-Rayzor's site
---
Artist biography
E-RAYzor started spinning Hardcore, Early Rave and Hard- / Jumpstyle back in the year 2000 on several smaller Partys in south Germany. 2 years later he formed the Hardcore Syndicate DJ-Team together with DJ Steve Strike from Augsburg.
After some time and successful Partys like Fright Night (Kranhalle, Munich) and Eruption (Tenne, Dortmund) they spilt up again and E-RAYzor started a fast growing Solo career.
In the following years he played at Partys like: Energy 2005 (Hallenstadion, Zürich), Hotter than Hell vs. Hellraiser 2006 (Stadthalle Dietikon, Zürich), Raving Nightmare (Tarm Center, Köln), D-Boy Invasion in Switzerland (Biella Factory, Biel), Nature One 2007 & 2008 (Raketenbasis Pydna), Hardcore Gladiators (Turbinenhalle, Oberhausen), Voel je de Bass Party (Happy Dayzz, Culembourg), Hellgate Clubbing (Oxa, Zürich), Hardcore Nation (Club Yellow, Dordrecht), Hardcore made in Germany (360 Grad, Bochum), Tunnel Hardcore Club (Tunnel, Hamburg), Le Colere Club (Meran, Italy), Hell or Heaven (Cave Club, Salzburg) and many more…
Besides spinning records E-RAYzor also made a lot of Traxx together with his DJ friends Stormtrooper, Baby Raw and The Braincrushers. Some of those Traxx have been licensed on CD compilations like "Hardcore made in Germany", "Generation Hardcore" and "Gods of Thunder", and 2 of them also have been released as 12" Vinyl.
Related releases