Hard X Music artist: Deka 187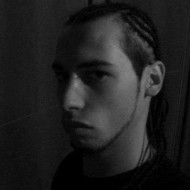 About artist
Country:
France;
Labels:
Hard Kryptic Records;
Styles:
Hardcore / Gabber

;

Deka 187 on Facebook
---
Artist biography
DJ/Producer Nathan Sansalone from Metz France first stepped into the music world at the age of six when he started playing guitar. A childhood filled with experimentation led hem to thrash metal as he was playing with friends in local bands being quickly addicted to distorting sounds.
Then in 2001 Deka's prime focus shifted more and more in the direction of electronic music such as hardcore and industrial beats. After some years of learning he startded producing his own songs, adding rougher and progressive elements to give a twist of raw energy and dark influences.
In 2007 The Deka formula was good as "Better reign in hell" and "The four finger club" were released on Wishcraft records (NL) teaming with Tieum and Scratch aka 2 Disorder Minds.
He now contribute to different label such as Hard Kryptic Records (USA) and Furious Monkey Records (NL).
You are warned…this guy means business!
Related releases