Hard X Music artist: Braincrushers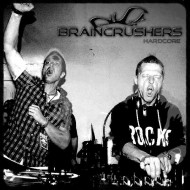 About artist
Country:
Germany;
Labels:
Hard Kryptic Records;
Styles:
Hardcore / Gabber

;

Braincrushers's site
---
Artist biography
Braincrushers consist of two brothers Oliver and David. Their career started in 1995 with a style that has always been hard, thrilling, and always modern. Ever since their first release in 2007 "Little Asses" on G-Net Records, sub-label of Traxtorm records, they became an integral part of the international hardcore scene.
Since 2009 their releases and remix projects have been published on USA based Hard Kryptic Records. Additionally, their productions have been found on top compilations like Thunderdome, 3xHarder, Hardcore Top 100, Hard Music Com, Thunderbase, and more.
Nowadays, they continue to play their powerful hardcore sets at well-known events like Nature One, Mayday, Ruhr in Love, Electric City, proud 2 be Hardcore, Megarave, Earthquake, and many more where they always bring the dancefloors to tremble.
Related releases